Taking a very close look at your engine as you strip it down can reveal some remarkably useful information. Take these tappets for example, here we are showing almost all tappet scenarios that can be encountered.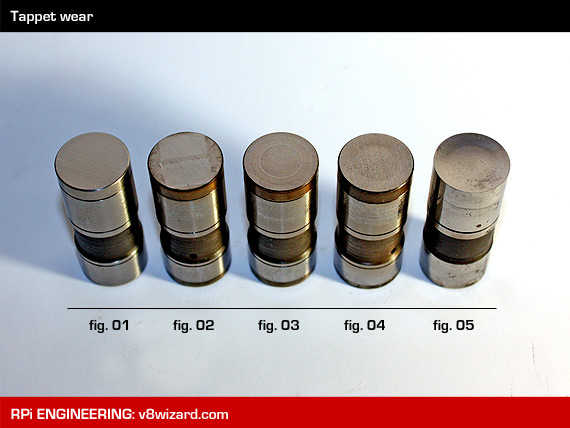 Tappet one has a near perfect surface and is in great shape to be re-used, but always keep each tappet with the cam lobe it belongs too.


Tappet two, is quite an unusual find but it shows the dimensional wear caused buy the tappets failure to rotate in the engine block (tappet housings).


Tappet three shows the normal wear that can be expected. You can see a circular wear ridge forming around the tappet base and this is indeed the time to start replacing the camshaft and tappets. Wear from both the tappet and the camshaft lobe which will have worn too, will cause premature wear to many other items in your engine and will be the begging of the end.


This tappet is showing signs of excessive wear and further prolonged use is unwise, it needs immediate replacement as a full Camshaft kit otherwise more serious damage will occur to your engine due small particle contamination.


If your tappets are as bad (concave as this) then your engine will be full of small particle contamination and for long term reliability only a complete rebuild or replacement is the way forward.