How do I know what outlet I need?
It's quite easy to establish what outlet you need on the bottle (either Butane or Propane). At present you will have a regulator or hose that connects to your exchange bottle. If you look at the image below you may instantly notice the type of regualtor that you have and therefore the type of outlet you need on a refillable bottle.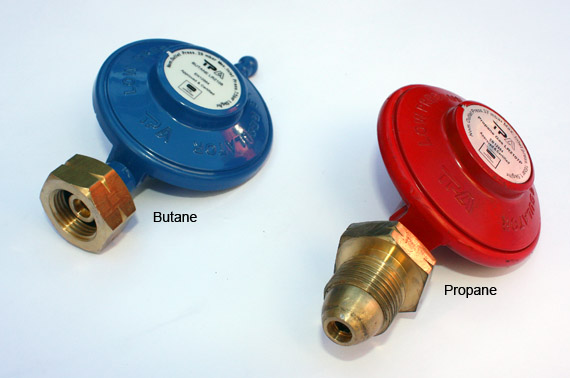 If your regulator or connection does not look like either of the above ones then it will be necessary for you to change the connection/regulator. To know what regulator to change to you will simply need to know what final pressure you require. This will be stated on your present regulator at either 28 or 37 mbar.
28 mbar = Butane outlet pressure (Shown on the left in the above image)
37 mbar = Propane outlet pressure (Shown on the right in the above image)
---
Gaslow Bottles
The Gaslow bottles are only available with the Butane threaded outlet installed on them, however this is not a problem if you require the Propane thread as most motor homes and caravans do. As you will see below we can supply an adaptor to change the Butane threaded outlet to accept the Propane connection. (Shown on the right in the below picture)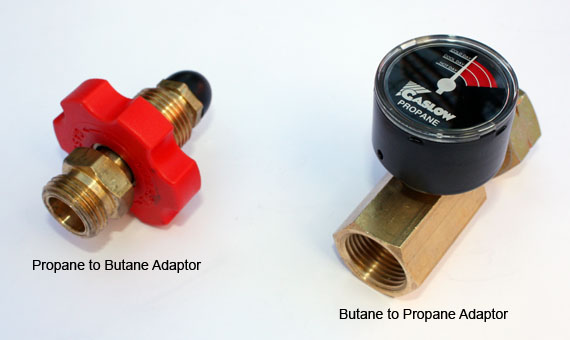 We also offer an adaptor to change a Propane outlet thread to a Butane threaded outlet, although not technically needed as all of our bottles can be supplied with a Butane outlet this can be very handy so that you can adapt a Propane outlet thread to Butane so that you have a dual purpose bottle. (This adaptor is shown on the left of the above image)