Fred Dibnah's Land Rover Series II Restoration & V8 conversion project

For those that don't know him, Fred Dibnah is a very popular steeplejack and steam engine fanatic from Bolton, Lancashire. Following many colourful TV documentaries, he has become almost a household name. So when we saw he also had a Land Rover, albeit a series II, we decided to see if there was anything we could do to help, and that was our first mistake, as we ended up doing rather a lot more than we had expected.



The land Rover as it was. Complete with Fred's tools of the trade

In the process of a complete strip down.
This is what she looked like when recovered to our premises. From a distance all looks in fair order, but as we began to strip it, the horrors of a series 11 became all too apparent.
We would like to take the opportunity to offer our thanks to Marsland Chassis and JSF Landrovers for their assistance in this project.
RPi can supply all chassis options from Marsland if required.
---
When I said rather a lot more, this was an understatement. The idea originally was to convert it to unleaded for him, but after the journey to our workshop it seemed that if this vehicle were to ever go back on the road it would need some serious rebuilding.

Like most jobs, the deeper we went, the worse it got, So we decided there's nothing left but a total rebuild and our efforts have been well rewarded as you will see from the details in this section.
Just a rolling chassis now.

Well, we had no choice, strip it completely or Scrap it !!!.
You cant see it, but this chassis has had it, close inspection reveals not only many many gaping holes and corrosion, but also many previous repairs that are no more than patches welded onto patches, Still 23 years of neglect are sure to have taken their toll. If only Fred had spent less time on his Steam Engines and more time on his Land Rover's needs.
---
It looks so easy.
Because Land Rover have always built these vehicles with the view to ease of changing parts between models, stripping it is quite easy, its just like a giant model, but everything we took off was proving to be far too bad to put back on again so nothing for it, we have to keep going deeper, and we have not even started on the V8 conversion yet.
---
With the engine removed, we can now start to sort out the bulkhead and with this conversion the V8 will fit as though it was meant to be there in the first place. But first more panels have to be removed and it's all going to be built up on a brand new galvanized Chassis donated by Marsland Chassis - you can find their web site here www.marsland-chassis.co.uk RPi can supply all chassis options from Marsland if required.
and Fred's (BBC) web site here www.bbc.co.uk/education/dibnah
---
| | | | |
| --- | --- | --- | --- |
| 1. With the front wings removed, it has revealed corroded chassis and body sections and a small garden plot on the top of the inner wing. | 2. The floor panels are removed, the air conditioning in the chassis can easily be observed. It looks like this chassis is finished. | 3. The interior is being stripped as more major corrosion is discovered, Looks like more major repairs are required, no worry, we will soon have it all under control. | 4. The 2.25 engine shows a nice bright red light on the dash when you go round corners, perhaps Fred just forgot to put any oil in? |
Fred Dibnah (in Person)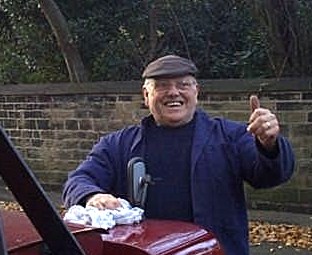 Meet Fred, If you don't know him yet, I think this picture says it all, Freds rather happy because we have just given him back, his completed vehicle. now with V8 Torque and and new bodywork, chassis and everything, (well almost.)


---


These are the only good bits we could find on the whole vehicle, and quite possibly the only major bits that are, original parts re-used on Fred's Landy.


This infamous tailgate would have gone again, but we opted to keep it for prosperity, (Sorry Fred.) the one we put on was in better condition though so no harm done.


---

As you can imagine, after all we have seen the project was getting a little beyond us, the Chassis had rotted beyond repair and it was looking like Freds Landy was not going to make it.
Having been a faithful admirer of "Aneka Rice's" hind quarters, I decided to try out her tactics And phoned round for some assistance in the chassis department, and any other are that would help.

---


So, we are guilty of sending out begging letters for assistance

I cant say we had an amazing response, But after contacting about 30 4WD companies, The response we did get, was not only well worth our efforts but far more than we could have ever expected.

We had most of the project covered, as we had our own series 2 already converted to V8 which was used to donate many of the body Interior & transmission parts that you will see later on Freds (finished) Landy. We also had many Ex Mod (ministry rebuilt) V8's, They are not street burning Boy Racer V8's but do have just what is needed for some reliable V8 motoring for the next 20 years without no worries.

We also had all the time needed for labor requirements and our series 2 donor transmission that we thought was Ok (turned out to be less than perfect) but it did have the V8 conversion adaptors and an overdrive.

The most crucial part though was the Chassis, there was no way the original chassis was going to be viable to restore, and new ones where just so expensive., Until that was, I got a unexpected call from John at Marsland Chassis



---

Well we got the new Marsland chassis home, and its time to get it all dressed up, John at Marsland was kind enough to clean out all the threaded holes in the chassis, so we got straight in to bolting on new brake pipes and all other smaller parts, (its amazing just how many parts there are?.

Its now time to wheel out the rolling Chassis, you can see that many part have now been renewed and replaced. Petrol tank, all brakes and brake components, axles wheels etc., It is at this stage that we really new the job would get finished/ and you can easily see why,

.

Attention to detail is the key to the most enjoyable projects and it sure gets the results



---

The "Rolling Chassis" getting its first glimpse of daylight
Adding all those small Chassis parts take so much time and attention


This Superb galvanized Steel Chassis was kindly donated to us by John, The Proprietor of "Marsland Chassis", The nicest of people to deal with in one of the nicest & most picturesque parts of England (Cheshire), John like so many was very interested in what we where doing and like ourselves had a deep admiration for Fred; and what he stands for.

The quality of the chassis was, without doubt superb, all holes for fixings where drilled in precisely the correct places, all mounting and suspension points perfectly aligned, and all body panels and major components fitted as though it where the original.
Like the engine we have built, I would expect this chassis to last for at least the next 25 to 30 years.

A credit to you John, For your fine attention to detail and highest of engineering standards, and I offer the uppermost appreciation for the assistance you gave with this project.

Marsland Chassis are well worth a visit at www.marsland-chassis.co.uk